Hamilton Seniors Isolation Impact Plan (HSIIP) Fast Facts
The population impact of the Hamilton Seniors Isolation Impact Plan (HSIIP) will be as follows:
The HSIIP consists of seven collaborating organizations in Greater Hamilton, who will work together to reduce social isolation among seniors in our communities.
Initially the project will focus on seniors in neighbourhoods deemed most at risk for isolation.
The HSIIP will target social isolation among seniors across the city.
The project will include an interactive referral system that will support Community, Peer, and Hospital Connector projects.
The HSIIP includes a participatory research initiative to identify the best available knowledge, provide guidance to community partners, and co-create innovative solutions to reduce social isolation across Greater Hamilton.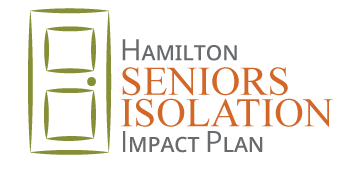 How the Hamilton Seniors Isolation Impact Plan (HSIIP) Works
We will use a phased approach to achieve the following outcomes:
identifying isolated seniors
connecting and anchoring seniors with community
improving and coordinating current supports
better understanding social isolation and community response
building a sustainable and inclusive community
In 2015, there were nearly 12,000 isolated seniors in Hamilton. By 2018, this project aims to significantly reduce that number, and to help prevent isolation among Hamilton's seniors in future.
By 2018, the HSIIP Plan aims to achieve the following:
a 20% increase in the number of seniors who can access support and help when they need it;
a 20% increase in the number of seniors who feel connected to family, friends, and acquaintances;
a 10% increase in the number of seniors who participate regularly in physical and/or social activities; and
a 10% increase in the number of seniors who feel valued by family, friends and acquaintances.
Less than half of seniors in Hamilton (just 40%) are able to name community support services (CSS) that they can turn to when they need assistance. That figure is even lower among the following group:
seniors with lower incomes;
seniors who are very advanced in age;
seniors without social support;
seniors who don't belong to a club or voluntary organization.*
Low-income seniors who are living in rural or remote areas with few transportation options may be significantly isolated.
Our projects aim to raise that number significantly. We will begin by targeting low-income seniors who are at high risk for isolation.
Our Community Connectors and Peer Connectors will work in the two target neighbourhoods we've selected for immediate attention, where risk factors for isolation are more prevalent.
Our Hospital Connectors will provide service to any senior in need who comes into a hospital setting. These seniors can (and will!) be from anywhere in the Hamilton area, including our two target neighbourhoods, because of how hospital admissions etc. are coordinated.
All of our team members will provide practical, personalized assistance to seniors in navigating the complex web of health and social services systems, and help isolated seniors to connect with their peers and other community members in social settings.
*

Bakht, L, Camplin, B, Mayo, S and Wetselaar, R. A profile of vulnerable seniors in Hamilton. The Social Planning and Research Council of Hamilton (Sept, 2011).
The city of Hamilton is diverse: it includes both urban neighbourhoods and a large rural area—each of which has different risk factors for social isolation. Phase One of the HSIIP focuses on both rural and urban neighbourhoods.
The initial target neighbourhoods for the HSIIP are two low-income neighbourhoods where risk factors for isolation are most prevalent.
Click on the links below to see more detailed maps of the areas we'll be working in:
Interactive Referral System
The CareDove interactive referral system will connect all 110 of Hamilton's existing Community Support Service (CSS) agencies via an accessible online database. All of the agencies will have access to the database (both for retrieving and inputting information).
This will result in:
dramatically simplified access to services, supports, and activities for at-risk seniors;
earlier identification of seniors who are at risk of isolation;
more direct service links to activities and assistance for seniors at risk of social isolation.
All 110 of Hamilton's Community Support Service agencies will be listed in and have access to the CareDove database.
Participatory Research Initiative
The Gilbrea Centre for Studies in Aging, supported by the Institute for Healthier Environments at McMaster University, will facilitate the cross-cutting project on research and policy. This project will use an integrated knowledge exchange model to achieve three distinctive objectives:
locate and co-create research-based knowledge to inform project activities, frameworks, and research and policy on social isolation and aging;
help to improve community supports for isolated seniors within Hamilton and surrounding areas;
affect public attitudes about social isolation of seniors.
COLLABORATIVE COORDINATION
The Hamilton Council on Aging (HCoA) will serve as the backbone of this important project, bringing diverse sectors together to build an effective system and framework, and facilitating cross-sector collaboration.
The HCoA will ensure that older adults and age-friendly communities remain at the centre of decision making. Its ultimate aim is to ensure that the benefits of this groundbreaking collaboration continue to have a lasting impact long after the project is complete.
Click on the image to view a larger resolution.